LNU-MSU Partnership
LNU–MSU History
The partnership that founded the LNU-MSU College of International Business started in June 2000. The College is a joint program between Liaoning Normal University, in Dalian, China and Missouri State University, in the USA. The four-year Bachelor of Science degree program in Dalian has formal approval from the governing bodies of both universities - the Ministry of Education, People's Republic of China and the MSU Board of Governors in the United States. The goal of this educational partnership is to increase cultural and educational exchange, and to promote friendship and understanding between the United States and China.
The Program
The LNU-MSU CIB offers a two-year AA degree in General Studies and a four-year BS degree, upon completion of another two years, in General Business. The program is available to Chinese and international students alike. The program is also a great starting point for individuals who are interested in studying in the United States since students who have earned their AA degree and meet the COB admission requirements have the option of completing their BS in Springfield, Missouri.
The program in Dalian is staffed by qualified instructors who have been vetted by both Liaoning Normal University and Missouri State University. Since the program is an English immersion program, all courses are taught in English with most of the faculty comprised of native English speakers. Not only are the faculty qualified but also our program itself, being an extension of Missouri State University, is accredited by the AACSB, the most prestigious accrediting agency in the world for colleges of business administration.
LNU-MSU Student Body
Each year, the LNU-MSU program enrolls about 700 students. While most of the student body is comprised of Chinese nationals, nearly 10 percent of our students come from other countries including but not limited to the United States, South Korea, Indonesia, Mongolia, Japan, and many African nations. Whatever country you call home, we warmly welcome you to join us whether you're just beginning your college education or looking to finish a degree that you started somewhere else.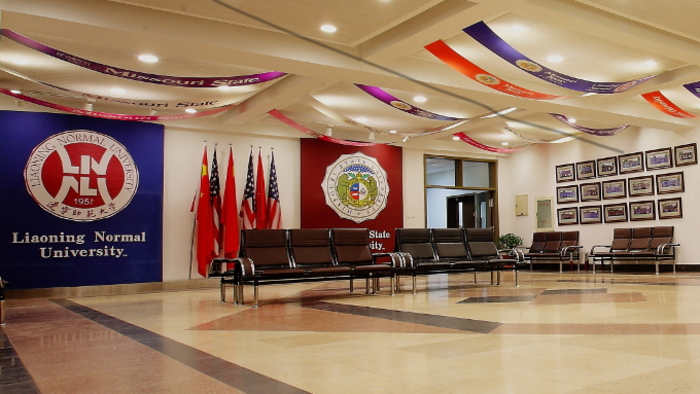 We appreciate your interest in our program. You can reach us directly in Dalian, China or at the Office of China Programs in Springfield, Missouri, U.S.A.