International Students
International Student Advising
The advisement office is open to all international students as well as Chinese. From time to time, however, advice pertaining to more than course scheduling is needed. Brandon Flint in office 213 is available to speak with international students when they need someone to talk to and helps in communicating information pertinent to international students success at LNU-MSU. If you have any questions personal or academic, please do not hesitate to sit down with and speak to Brandon.
Keeping Your Account Current
Our policy at LNU-MSU stipulates that the balance on any student's account must be paid in full by the last day of classes for the current semester, but it is best to pay all tuition and fees as soon as possible. All students who have an outstanding account balance one full month after classes have started will have their accounts put on hold until the remaining balance has been paid. This does not prevent students from attending classes for the duration of the semester, but it does prevent access to things like transcripts and course registration for the following semester. It is not only important to pay off any remaining balance before the last day of classes to have holds removed, but it is also important because student visas for the following semester cannot be obtained for students whose accounts are not current.
Minimum Course Requirements
It is expected that international students maintain a full-time student course load. This means that international students must register for and maintain throughout the semester a minimum of 12 credit hours. Returning students must register for these courses before the last day of classes of the preceding semester. Current student failing to register for a minimum of 12 credit hours for the following semester by the last day of the current semester's classes will be presumed to be not returning the next semester. Students failing to maintain a full load of at least 12 credit hours will no longer be considered full-time students and could be at risk of losing their Chinese student visas. Students with extenuating circumstances (e.g. students needing only one or two classes to graduate with their AA degree) will be considered.
International Student Association
The International Student Association (ISA) is a student-led organization responsible for creating social programs and events for members. It is also responsible for communicating important information to members and providing support and mentoring for new incoming international students. The ISA regularly meets in the international student lounge. This private space is strictly reserved for international students as a place to meet, study, and hang out.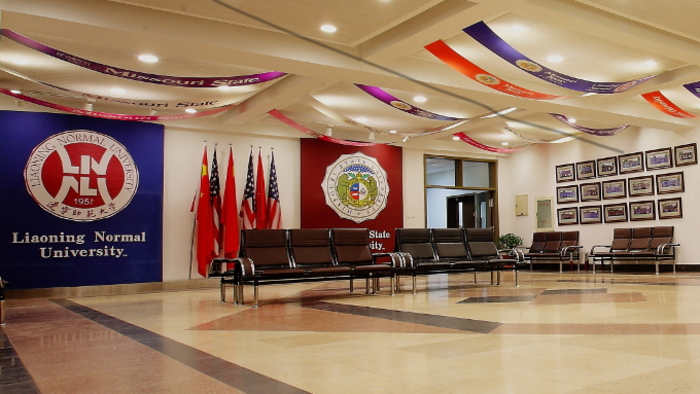 We appreciate your interest in our program. You can reach us directly in Dalian, China or at the Office of China Programs in Springfield, Missouri, U.S.A.