About LNU-MSU
Two Great Universities, One Great Program
Liaoning Normal University (LNU) and Missouri State University (MSU) created the LNU-MSU College of International Business (CIB) in 2000. Since then, LNU-MSU has warmly welcomed students from many nations all over the world including students from China, South Korea, Japan, Mongolia, Indonesia, the United States and many African nations. Most students enroll directly after high school; however, students of any age are eligible.
Once enrolled, students have a few degree track options. The first two years of our program lead to an Associate of Arts (AA) degree in General Studies from Missouri State University. Students wishing to complete their Bachelor's degree then have two main options. These students can either continue studying at Dalian for Bachelor of Science in General Business or they can go abroad to finish the last two years of study. For students with a 2.5 or higher GPA wishing to finish their Bachelor's degree abroad for the last two years of study, Missouri State University, Springfield offers many other degree options including but not limited to Accounting, Finance, Marketing, Management, and Computer Information Systems. Upon completion of a Bachelor's degree, exceptional scholars may also attend graduate school at the Springfield campus of Missouri State University to earn a Master of Business Administration (MBA) or any other Master degree.
To learn more about our program, take a moment and continue browsing our website or download the LNU-MSU brochure for viewing now or later. (Right click the link and choose "save target as" or "save link as," or click to open in a new tab)
LNU–MSU Mission Statement
LNU-MSU College of International Business is committed to the goal of producing qualified business professionals with a global perspective and skills suitable for the twenty-first century global business environment by developing an understanding of interdependence and cooperation within a unique program of higher learning.
LNU–MSU Vision Statement
LNU-MSU College of International Business is a joint program between Missouri State University and Liaoning Normal University dedicated to providing quality business education in the spirit of international cooperation.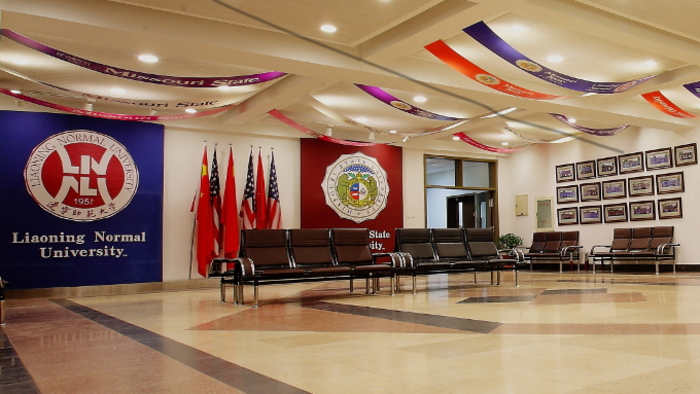 We appreciate your interest in our program. You can reach us directly in Dalian, China or at the Office of China Programs in Springfield, Missouri, U.S.A.